Tandem "AC Light Battery"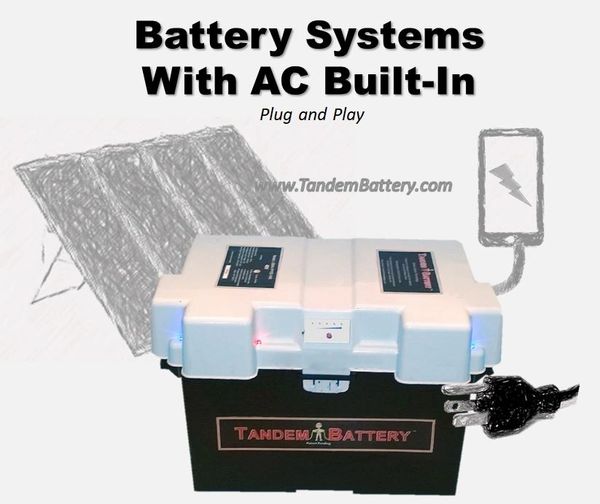 The Tandem AC-720 has been called the "AC Light Battery" because it produces AC electricity (in addition to DC) and is contained in a single case weighing in at a mere 22 pounds.
This 12V lithium (LiFePO4) battery is rated at 60 Ah ( approximately 700 watt hours). It comes standard with a 15 amp battery charger, and an inverter rated at 750 watt continuous operation with 1500 watt peak. In addition to 120 VAC and 12 VDC output, the AC Light Battery also has USB phone chargers.
As an option, the AC Light Battery can be ordered with a 100 watt, 4 panel solar array.
Need more battery storage and charging? No problem. The AC Light Battery also has an external connector that can be used to attach a higher capacity charger and/or additional batteries. The lithium cells will also allow high C-rate charging from a generator with an external charger (not supplied).
The AC Light is designed for portability. Take the battery to where it is needed – the garage, the basement, the barn… or take the battery, and the solar array, for longer duration use such as camping or the mountain cabin.
The plug in charger also makes the AC Light Battery ideal as an emergency backup. Just plug it in and automatically maintain the battery charge until is needed.