Tandem AC "Twin 12" System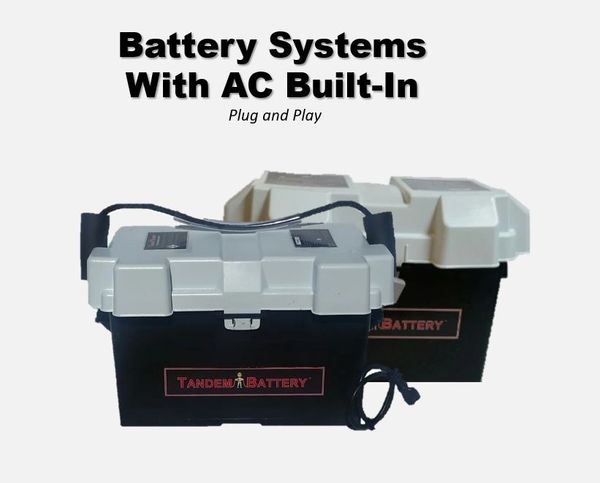 The AC Twin 12 is designed for portability and can be used outdoors. Take the battery to where it is needed – the garage, the basement, the barn or the camping and hunting trip. The AC Twin 12 is also ideal as an emergency backup. Just plug it in and automatically maintain the battery charge until it is needed.
The "AC Twin 12" is not only a name, it accurately describes this battery system. It produces AC electricity (in addition to 12 VDC) and is in two separate and identical looking cases -- the Battery Case and the Components Case. It also earned the "Twin" name because it uses two parallel inverters and two parallel chargers. These twin components not only increase power, but also provide a greatly increased level of reliability.
The Battery Case contains a LiFePO4 lithium battery capable of producing over 200 amps to support your power hungry devices. It is designed to be connected to the Components Case to produce AC electricity. In addition, the integrated 12 VDC connectors also make it possible to use the Battery Case in stand-alone mode to power loads using 12 VDC.
The Components Case contains the dual inverters, the dual chargers, 120 volt outlets, USB charging ports and additional 12 VDC outlets. Both cases are IP56 outdoor rated. Simply plug the Battery Case into the Components Case and enjoy 1500 watts continuous and 3000 watts peak power through the dual inverters.
This mobile, high performance, modified sine wave inverter lets you run power tools, small appliances, electronics and much more. (Note that certain devices such as laser printers, digital clocks and variable speed motors may required a Pure Sine Wave inverter.)
Need more battery storage and charging? No problem. The AC Twin 12 architecture allows connection of additional batteries and chargers. The lithium cells will also allow high C-rate charging from a generator.
As an option, you can connect the AC Twin 12 to solar for extended time off gird, such as camping or the mountain cabin.